The hyena made the mistake of allowing the lions to enter the area, see in the video how the king of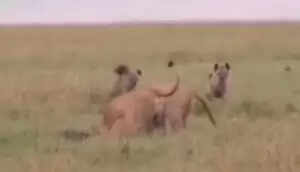 \ajab gajab jaipur desk !!!The lion, the king of the jungle, rules the entire forest on the strength of his strength and courage, but sometimes other hunters come to the lion's territory and challenge him, which he does not like at all. After that the lion also teaches him such a lesson which he may never forget. We got to see one such video on social media. In which a hyena made the mistake of entering the area of ​​lions. What happened after that you can see in this video.
This video has been shared from Twitter account @Betkoen90. Which has got more than 6000 views so far. Also 75 likes and 18 retweets have also come on this video. It can be seen in this video that a hyena has entered the area of ​​lions to snatch their prey. When a lion sees a hyena, it attacks it.
Post a Comment
From around the web