Ex-Raj CM Vasundhara Raje makes a comeback in party posters
Jaipur, Jan 25 (IANS) Former Rajasthan Chief Minister Vasundhara Raje has made a comeback in the BJP's posters outside the party headquarters in Jaipur -- a development that is being seen as a change in the political equations in the state that would go to the polls to elect a 'new chief minister' late this year.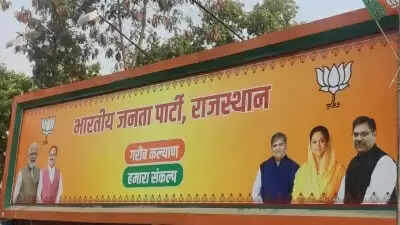 For the last two years, pictures of the leader of the opposition, Gulabchand Kataria and BJP state president Satish Poonia along with the central leaders were seen on the posters on the hoardings at the party headquarters.
Raje was not visible on the BJP's posters after the new organisational set up of the party came to the state.
Party office bearers said that the central leadership has directed that the leader of the opposition and state president along with the national BJP president and the Prime Minister's pictures should be on posters where the party is not in power, while the states being run by the BJP will have a picture of the Chief Minister, state party president, along with the national president and Prime Minister Narendra Modi.
However, during Nadda's visit to Rajasthan, a new poster was put up at the party headquarters where Raje had also been seen along with Kataria and Poonia.
This change has triggered many speculations in the party.
The BJP had included the face of a former CM in posters during the Gujarat assembly polls. Similarly, in Karnataka, a former CM's face was promoted on posters. According to sources, this is a part of the party's strategy to give respect to the former chief ministers.
Interestingly, Vasundhara Raje was given a place in the posters of the BJP's Jan Aakrosh Yatra in Rajasthan.
At the same time, the hoardings of Vasundhara Raje along with Satish Poonia and Gulabchand Kataria were put up in the State Working Committee meeting held at Entertainment Paradise on January 23.
During Nadda's recent visit to Rajasthan, Raje was seen sharing the dias with several senior party leaders including the BJP national chief and Rajasthan BJP president Satish Poonia.
--IANS<br>arc/pgh