BLF says it killed 213 Pakistani soldiers and 27 Death Squad members in 2022
New Delhi, Jan 23: Soon after a devastating attack on Pakistani soldiers near the Iran border, called the Goldsmith line, insurgent group Balochistan Liberation Front (BLF) released its annual report for 2022.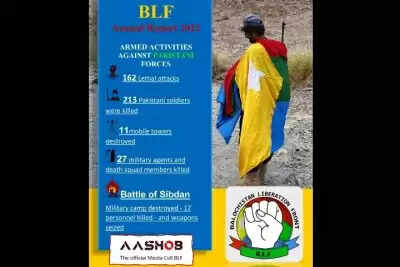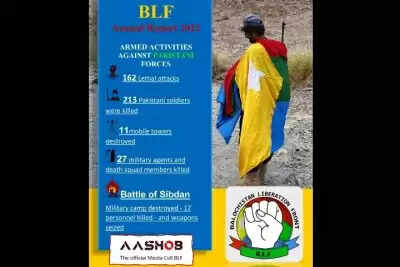 <br>The report says that the rebels carried out 162 attacks on the forces in which 213 Pakistani personnel were killed, and more than 100 were injured. It adds that only ten BLF rebels were killed in these operations "to defend their motherland."
Importantly, the annual report said that the BLF has also kept the notorious Death Squads in their crosshairs. It says that "27 agents and informers were killed and 3 were injured. They function in the name of state death squads."
The Pakistan government and its security agencies have established Death Squads - informal groups of criminals and gangs who act in illegal activities like killings, forced abductions, collecting ransom, setting up illegal check-points and smuggling of weapons and drugs under the protection of the State.
In an ominous warning to Pakistan, the BLF says that it "will intensify its attacks on enemy's projects this year to force them to leave our motherland. Those Baloch who support and inform the Pakistani army and other activities against the freedom movement should desist from their anti-national activities."
The rebel outfit has asked the public to stay away from military installations, checkpoints and convoys as its fighters can target the enemy any time.
BLF spokesperson Major Gwahram Baloch who released the report said: "Baloch Sarmachaars repulsed the enemy on every front of the war, on guerilla and urban fronts. Their best war tactics have made the enemy desperate."
The BLF said that during 2022, besides the attacks on the security forces it also damaged 11 mobile towers and two convoys of trucks carrying goods and precious stones from Gwadar port.
The BLF also attacked military construction company FWO, in which five workers were injured, 16 vehicles and machinery were set on fire. It also attacked 15 trucks supplying goods to the FWO and the army.
The rebels also claim to have attacked different forces - the Navy camp, the Coast Guard, the Narcotics force and the Sindh Rangers.
The Baloch rebels have also made it clear that they are opposed to any kind of investment, including the China Pakistan Economic Corridor (CPEC) that takes away their mineral wealth and exploits local resources.
(The content is being carried under an arrangement with indianarrative.com)
--indianarrative