Lion trying to hunt deer caught his leg, see what happened next in the video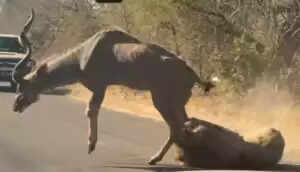 ajab gajab jaipur desk !!!Seeing the lion, the condition of the good gets spoiled. In such a situation, if the lion comes in front of someone, then surely its beating would have stopped. On social media, we saw a video in which a lion came out and came in between the vehicles on the road. After that there was a jam on the middle road. But a deer coming out of there became a victim of the lion.
This video has been shared from a YouTube channel named Kruger Sighting. It can be seen in the video that a lion has come on the road passing through a forest. The lion is walking in the middle of the road. Seeing the lion, all the vehicles passing by stop there and the lion is seen walking in fun. Then a deer also comes on the road from the other side of the forest.
Post a Comment
From around the web