The tiger was trying to hunt the bear, see in the video how the hunter ran away in fear in one go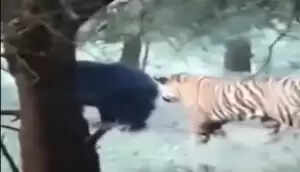 ajab gajab jaipur desk !!!If you face the problem with courage, then you will definitely get success. Then no matter how big the trouble is. We found a video on social media illustrating a similar example. In which a tiger attacked a bear, he did not panic but fought it bravely. What happened after that you can see in this video.
This video has been shared by Indian Forest Service officer Sushant Nanda from his Twitter account. Which has been seen more than 1700 times so far. Also, this video has got likes and 41 retweets more than two hundred and fifty times. In this video, it can be seen that in a forest, a bear is roaming around comfortably looking for his food and eating it.
Post a Comment
From around the web